Cristiano Ronaldo A Legend In Football
The Manchester United and Portugal star is defined as much by his determination as he is by his astonishing achievements
It's the legacy that a champion leaves behind for people to remember and not just the trophies and medals that one garnishes their cabinet with.
In this regard, Records continue to tumble as blazed by the Portuguese footballer. However, Cristiano Ronaldo has set a precedent that only a few athletes around the world are able to match, let alone beat.
 Cristiano Ronaldo Career Journey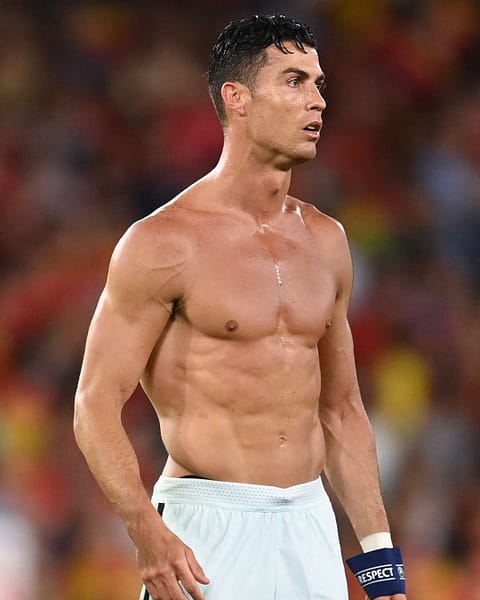 eless, Cristiano Ronaldo started his football profession by playing for Sporting CP. In 2003, at the age of 18, he underwent an agreement with Manchester United worth £15 million. He was the first Portuguese player to be part of the English club. In his first season at the club, he won the FA Cup. Howevre, He further led the club in winning three Premier League titles, the Champions League, and the Club World Cup. Also, At the age of 23,  Cristiano Ronaldo won his first Ballon d'Or. In 2009, he signed for Real Madrid. Consequently, he won 15 trophies including two La Liga titles and four Champions League titles. In addition, Ronaldo won four Ballon d'Ors between the years 2013 and 2017. Moreover, Cristiano Ronaldo has won two series A titles, two Supercopa Italiana and a Coppa Italia.
Cristiano Ronaldo Long Lists Of Records
• Most goals scored in all official senior competitions (807)
• Highest men's international goals scored (115)
•  Also Most goals scored in the FIFA Club World Cup (7)
• Highest international goals scored in a calendar year (32)
• First male player to score 10 international hat-tricks
• Only player to win the league title, domestic cup, domestic super-cup, Champions League, Club World Cup, league player of the year, Golden Shoe and Ballon d'Or at two clubs (Man United & Real Madrid)
•  Cristiano Ronaldo has the most appearances in the FIFPro World 11 (14)
•  Most FIFA World Cups scored in (4)
• Old player to score a hat-trick at a FIFA World Cup (33 years, 130 days)
• Only player to score more than 50 goals in seven consecutive calendar years
• Cristiano Ronaldo is the First player to score in consecutive FIFA Club World Cup finals
•  Player to score in 10, 11 and 12 consecutive international tournaments, making him the First
• Most different national teams scored against (46)
UEFA Champions League Records
• Highest goals in a UEFA Champions League season by an individual (17)
• Most FIFA World Player of the Year awards (3)
• Player with the most hat-tricks in a La Liga career (25)
• Most men's international caps (185)
• Player with the most goals scored in all UEFA senior competitions (224)
•  Also First player to reach 100 career wins in the UEFA Champions League
• Most career wins by an individual in the UEFA Champions League (114)
• First player to reach 100 career goals in European club competitions
• He's the first player to reach 100 career goals in the UEFA Champions League
Champions League Continues
• First player to reach 100 career goals for a single club in the UEFA Champions League
• Player with the Most goals scored in European club competitions (143)
• Most appearances in the UEFA Champions League proper (183)
• Player with the Most goals scored in the UEFA Champions League (140)
• Most assists in the UEFA Champions League (42)
• Also, the Player with the  Most goals scored in a UEFA Champions League/European Cup season (17)
• Most goals scored in the group stage of a UEFA Champions League season (11)
•  Player with the Most goals scored in UEFA Champions League knockout phase (58)
• Most UEFA Champions League goals scored in a calendar year (19)
•  Player with the Most individual teams scored against in the UEFA Champions League (37)
• Most goals scored from penalty kicks in UEFA Champions League history (19)
•  Also, Most goals scored from direct free kicks in UEFA Champions League history (12)
• First and only player to score 15 or more UEFA Champions League goals in three seasons
• He's the First player to score a hat-trick in consecutive Champions League knockout matches
• First player to score in all six group stage matches in the UEFA Champions League in a season
• He's the First player in the history of UEFA Champions League to score three hat-tricks in a single season
• First and only player to finish UEFA Champions League top scorer in six consecutive seasons (2012/13 to 2017/18) and in seven seasons overall
Knockout Records
• Most goals scored in the UEFA Champions League quarter-finals (22)
• Also, Most goals scored in the UEFA Champions League semi-finals (14)
• First and only player to score in three UEFA Champions League Finals: in 2008, 2014, and 2017
• Also, the First and only player to score 10 in four, five, six and seven consecutive UEFA Champions League seasons (2011/12 to 2017/18)
• However he is First player to score for two winning teams in the UEFA Champions League/European Cup (Manchester United in 2007/08 and Real Madrid in 2013/14)
• Also Most UEFA Team of the Year appearances (15)
• Most consecutive appearances in the UEFA Team of the Year (14)
• First player to appear in more than one position in the UEFA Team of the Year
• Fastest player to score 350 goals for one club (335 matches)
• Most UEFA Best Player in Europe Award and UEFA Club Footballer of the Year awards (4)
League Records
• First player aged 21 or under to score at least twice in three consecutive Premier League appearances
• Most goals scored from penalty kicks in La Liga history (61)
• Fastest La Liga player to score 150 league goals (140 matches)
• Also Fastest La Liga player to score 200 league goals (178 matches)
• Fastest La Liga player to score 300 league goals (286 matches)
• Most goals scored in the Madrid Derby (22)
• First player to score in six consecutive El Clasicos
• Fastest footballer to reach 15 league goals in one La Liga season (8 matches)
• Fastest footballer to reach 20 league goals in one La Liga season (12 matches)
• Only player to reach 30 goals in six consecutive La Liga seasons
• Most teams scored against in a La Liga season (19)
•  Also Most La Liga hat-tricks in a season (8)
• Most consecutive away matches with at least one goal scored in a single Serie A season
• First player to score in seven consecutive away matches in a debut Serie A season
League Records Continues
• Most consecutive Serie A matches scored in (11)
•  Also Most international caps as captain (128 caps)
•  However he has the Most recorded assists for the Portugal national team (32)
• However he has the most goals scored in a calendar year for the Portugal national team (14)
• Most matches played for Portugal in World Cup finals (17)
• Youngest player to reach 100 caps (27 years, eight months and 11 days)
• However, he his the First Portuguese player to score a Premier League hat-trick
• Also the Only Portuguese player to score 400 league goals in European top flight leagues
• However, he has the Most goals scored by a Portuguese player in Serie A (81)
• First Portuguese player to score a Serie A hat-trick
• Real Madrid all-time top goalscorer (450 goals)
•  Also Real Madrid top goalscorer in UEFA Champions League: 105 goals
• However, he is the Fastest Real Madrid player to reach 50 league goals
•  Also Fastest Real Madrid player to reach 100 league goals
• Fastest Real Madrid player to reach 200 official goals
• Most goals scored for Real Madrid in El Clasico matches (18)
• Also Most goals scored for Real Madrid in seven consecutive league matches (15)
• First Real Madrid player to score in eight consecutive matchdays
• Most hat-tricks for Real Madrid in La Liga (34)
• Also, Most goals scored for Real Madrid from penalty kicks in UEFA Champions League (14)
• Fastest player to reach 10 official goals for Juventus in all competitions (16 appearances)
• Also, Most goals scored in a season for Juventus in all competitions (37)