Manchester City came out the better side after receiving rivals Manchester United on Sunday as they extended their lead at the top of the Premier League table to six points with a 4-1 victory over the red devils at the Etihad.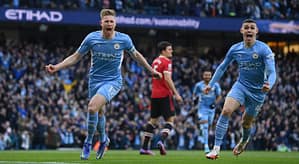 Coming into the game, the Cityzens had not beaten Manchester United at home since 2018 but things went in favour of Pep Guardiola's side when Kevin De Bruyne opened the scoring early in the 5th minutes with an assist from Bernardo Silva. 
All hopes seemed to be restored when Jadon Sancho got the visitors level after an impressive effort, however this hope was short-lived as Kevin made the United suffer again when he stroke in the 28 minute.
In the second half of the game, Mahrez was the man of the moment as he converted a Kevin De Brunye​ conner cross in the 76 minutes to make it 3-1.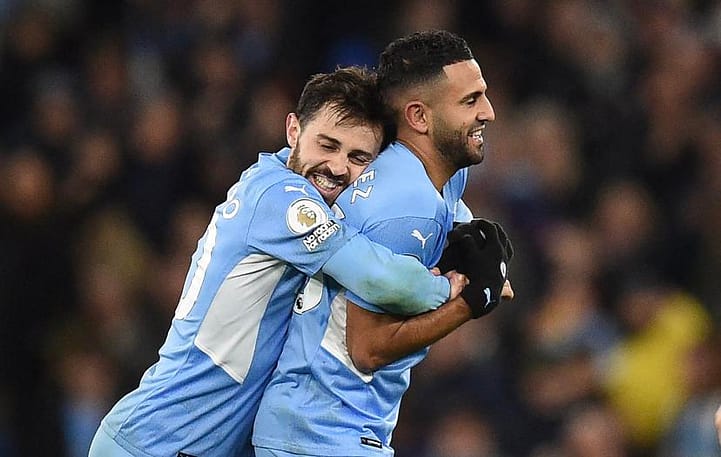 In the 90 minutes, Mahrez drove in a shot that nearly defaced Manchester United's keeper, De Gea. Although it was flagged down as an offside, the V.A.R thought otherwise by awarding the goal to Mahrez.
United struggled to have a single meaningful touch in the second-half, and Riyad Mahrez made sure of the three points were picked by City. With the game being a fair game, Referre Michael Oliver showed yellow card to only one player, Harry Maguire.
This win puts Manchester City six points above Liverpool.  Manchester City have now gathered 69 points in 28 games, while Liverpool still have an outstanding game with 63 points in 27 games, unfortunately, the hope of finishing top four is becoming slimmer with every game played.
In another top clash, Arsenal was able to edge past Watford United. Bukayo Saka was in fine form, assisting in the 5th minute and scoring in the 30 minute. 
The game ended 3-2 in the favour of Arsenal, with a goal from former Tottenham player Moussa Sissoko in the 87 minutes. 
Arsenal now sits comfortably at the fourth position with 4 games to play, with the season coming to a close, the Gunners are confident of a top four finish and a spot in the Champions League, which in recent times, they have failed to qualify.