Manchester City were Held to a goaless draw 0:0 by crystal palace at selhust park on Monday night as the citizens failed to increase the gap on second placed Liverpool.
Pep Guardiola had told his side that they had a fake lead at the top of the league and blew the title race wide open as they drew to Crystal palace men played out a 0:0 draw away to palace as they were held for 90minutes
Patrick Vieira, serenaded lustily from the stands long after full-time, may come to have played a deciding role in his former club's season. City had only dropped five points since Palace beat them at the Etihad in October; this time their opponents had few chances to score, enjoying flurries that could have wrought more severe damage with more composure on the break, but their endeavours were another gift to Jürgen Klopp.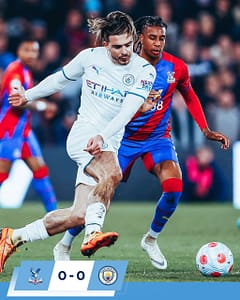 City held possession as usual as crystal palace sat deep looking to break on the counter with players like zaha, Mateta and Michael Olise.
The palace midfielders Conor Gallagher and Cheikou Koyate held firm and protected the back four sometimes back eight whenever city attacked. it was looking more inevitable that the citizens would get a goal but the first half wore on and an acute shot from Ryhad Mahrez was the notable effort city had going forward, palace winger Zaha was the constant threat as his shot went wide off the mark, Andersen saw an inviting cross go begging as the ball sailed over the city defence.
As city piled the pressure on the palace back line Vicente Guaita was on hand to shield his post.Kevin De Bruyne had his shot spilled by the palace goalkeeper only for Benardo Silva to scoff his shot wide.
Ryhad Mahrez saw his shot saved comfortably by the Spanish goalie as city became frustrated. Jack Grealish played a pass across goal as Benardo Silva failed to turn the ball in.
Joao Cancelo saw his shot from 25 yard crash off the post, Aymerick Laporte failed to connect with a ball as he blazed his shot over the post.
palace substitute Odsonne Edouard came late on and failed to score after being put through by Cheikou Koyate.
Palace ran themselves into the ground, the effervescent Conor Gallagher still managing to find two threatening positions in added time before half-joking afterwards that he could not feel his legs. As the minutes ticked down there was never a strong sense City, for all their propensity to find something, would pick the lock and the hosts' focus in seeing the result out was exceptional.
If Manchester city were to lose the title to Liverpool they would look back on this game with regrets, Liverpool would be well pumped after this draw and would need something special to defeat Arsenal who has been imperious under Mikel Arteta.