Mbappe's 94th Minute strike gives 1-0 win to PSG against Real Madrid.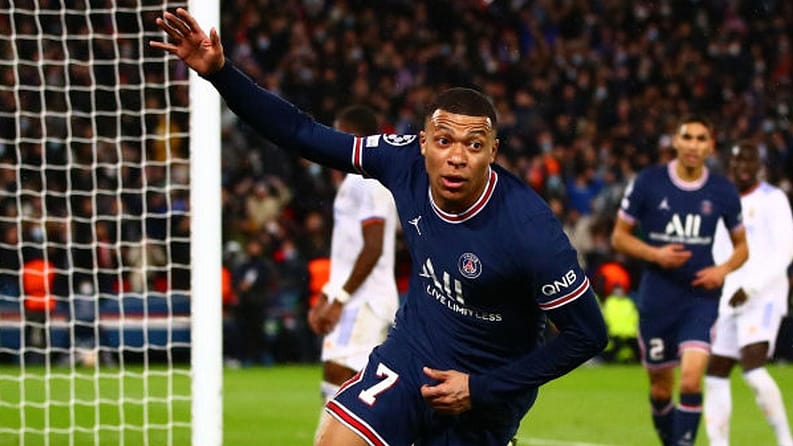 Mbappe's stoppage-time strike secured a 1-0 win for Paris Saint-Germain in the first leg of thier round – of- 16 champions league clash againt Real Madrid at the Parc des Princes.
It went on as a frustrating night for the French Side after Thibaut Courtios posed a stumbling block for Mbappe twice and even Saved a lionel Messi penalty.
With 8 shots on Target compared to Non from Real Madrid and 8 yellow cards shared between both teams, 57% ball possession for the french side, PSG really needed a win to cap thier efforts.
Mbappe's goal was an assist from Neymar, who was brought in the 73rd minute,  barely 20 minutes to end of play. He still pulled his home run, giving a back heel pass that gave Mbappe an advantage to outplay 2 defenders before putting the ball under the Keeper.
Mbappe, who has been linked with a summer transfer to Real Madrid, was a major threat against the 13-time winners Madrid. He now has 13 goals in 13 champions league matches.
"It was a great game for us and I'm always ready to help my team, there are no distractions," He says the return leg might be a hard ggame but the team has the advantage and will be prepared.

History stats have it that this victory will be the second time Paris Saint-Germain has won a UEFA champions league knock out match with a 90th minute winner, the first being against Atalanta in August 2020 at the quarter-final.

While this is the second 90th minute goal Real Madrid will conceed in the UEFA Champions league after Mirko Vucinic for Roma in 2008

And the Match happens to be Iconic as Real Madrid has failed only two times to land a shot on target in Just two UEFA champions league games since 2003-2004 ,  which happens to be against Paris Saint-Germain.

The return leg of the match is set for March 9 in Real Madrids home, they will be without Casemiro and Mendy who received extra yellow cards in the evening game, they will have to forfeit the next match.