Former Manchester United and France left-back Patrice Evra will start his boxing career by fighting Youtube star Adam Saleh on April 30 at the O2 Arena.
The Manchester united legend has chosen to take to the Rings,in what some crtics have referred to as "bizarre".The Left back who enjoyed a successful eight years career at Manchester united, winning five premier league tophy and one champions league title.
He also appeared for Monaco, Juventus, Marseille and WestHam before retiring in 2019.He represented France and won 81 caps for the Les Bleus.
After retiring from football the ex Manchester united defender has taken a liking to boxing and punditry appearing on sports program to give opinion on sports related matters.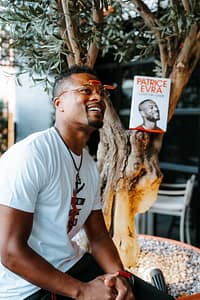 He will now turn his attention to boxing after confirming a fight with Saleh-the 28 year old American who has won two fights and drawn one on YouTube fights.
Saleh has fought three times on major YouTube boxing before, winning twice and drawing one during his time in the ring.He also reportedly boats an amateur from before his social media days that amounted to 30 fights, although there is little of these online.
The pair will clash on the undercard of Martyn Ford's heavyweight clash against Iranian Hulk whose real name is Sajad Gharibi.Saleh was previously touted as a potential Opponent for fellow media icon KSI.
Saleh had earlier announced that he would be fighting on April 30 in the O2 Arena.Patrice Evra who is an amateur boxer without no experience will be making his debut in the boxing ring after choosing a different career path from the one he has know all his life.
American Saleh called Out Evra on Instagram, warning that the former left back needs to be 'ready'.He wrote: "April 30th at the O2 Arena I will be sharing the ring with the legend @patrice.evra hope you're ready (sic) GET YOUR TICKETS NOW"!
Also talking to Instagram,Evra said:
"This fight will be April 30 at the O2 Arena in London so I'm going to need all my whole UK family to pull up and show thier love, from not just London but all over the UK I need you guys because this is going to be really crazy"