Joan Laprto the club side Barcelona President has said he wasn't happy with the decision of letting Club Legend and Argentine forward Lionel Messi leave in the summer.
Lionel Messi was unable to remain in the club he had grown in due to LaLiga finance policy, which could not see Barcelona keep Messi due to their financial setback.
After returning from the Copa America competition and wining his first major international trophy, Messi was hit with a surprise of not being able to extend this contract with Barcelona.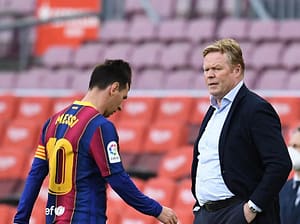 Speaking recently on this, the current Barcelona president said
"It is the saddest decision of all," Laporta told Barcelona's official media.
"I would never have wanted to make it, but I am not sorry either because we had to put the club above everything, which is what we did, even ahead of the best player. The situation was what it was.
"We came up against reality. It seemed that afterwards there was nothing, but Barcelona's history continues and with work and good thought-out decisions we could return to the path of success, which is what we are doing."
Laporta went on to express his gratitude towards Ronald Koeman for giving opportunities to youngsters, but stressed that his decision to sack him was correct.
"I had doubts after the first season, but out of respect for him we tried [to see how things would go]," added Laporta.
"There came a time when I saw that another painful decision had to be made. If I had had to make it earlier? Yes. I had to have listened to the intuition.
"I will always remember Koeman for the goal at Wembley, for a coach who had the courage to use young people. If he is hurt, I hope it will go away."
Lionel Messi played a total of 778 games scoring 672 goals and 303 assists and currently tops the list of the highest goal scorer for Barcelona.
A feat that may not be easily forgotten.
The Argentine and current Paris Saint Germain forward won 10 Laliga, 8 Spanish Super Cup, 7 Copa del Rey. 4 Champions League, 3 Club World Cup and 3 European Super Cup in his time at Barcelona, and a total of seven Balon D'or