Paris saint Germain has gone from fry pan to the main fire as they lost their third consecutive match on Sunday afternoon as Monaco claimed a comfortable 3:0
Still recovering from their champions league exit at the hands of Spanish giants Real Madrid ,the Parisian big stars which includes the likes of Neymar and Lionel Messi specifically being targeted by the enraged fans.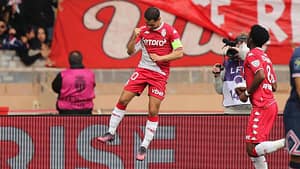 The Argentine has struggled so far in the french capital and was out of the side with illness as Mauricio Pochettino's men traveled to the principality to take on bitter rivals monaco.
With a strong line up consisting of french Wonderkid Kylian Mbappe, Neymar Jr and former Liverpool midfielder Wijinaldum in the starting xi.
The Parisian leads the Ligue 1 table with 15points and are still on track to match Saint-Etienne's Record of 10Ligue one trophy.
PSG began the game with some early possession of the ball and controled the game well, but it was Monaco who took the lead through France international Ben Yedder, a sublime cross from Yossouf Fofana was nearly tucked home by the ex Sevilla man.
PSG's first real opportunity came in the 51st minute when Kylian Mbappe made the most of Neymar's through ball to break into the area – only to fluff his shot.
Substitute Kevin Volland came on as a replacement for Gelson Martins and immediately made an impact to beat PSG 'keeper Gianluigi Donnarumma from close range at the conclusion of a well-executed collective move in the 68th minute.
Ben Yedder made it 3-0 with six minutes left from the penalty spot following Presnel Kimpembe's reckless tackle from behind on Volland. Donnarumma managed to parry the striker's kick, but the ball bounced into the net.
PSG were without Lionel Messi, who was ruled out with flu-like symptoms. In addition to the seven-time Ballon d'Or winner, PSG were also without Sergio Ramos, Angel di María, Juan Bernat, Layvin Kurzawa and Ander Herrera.
Mauricio Pochettino knows his time at parc des prince his being numbered with the PSG Ultra calling for the ex Tottenham Hotspur manager to be sacked.
The PSG captain Marquinhos spoke to the press after the match;
"It's catastrophic. It's our worst game of the year. We came here to enjoy ourselves and win. We are in a difficult moment. We can't throw everything away. We have to work together to get through this moment."